No pantry may exist in every home, but that doesn't mean you can't organize your kitchen effectively without one. Here are some tips and tricks for getting organized without a pantry:
Start with the small stuff
Decluttering is one of the simplest steps you can take for an organized kitchen. Doing this will free up space and keep cabinets, countertops and other areas looking neat and tidy. Take stock of all items you've collected over time and decide whether or not you want to keep them.
If you're not quite ready to part with everything, try storing some items away in storage. This could be done using a bin, box or basket in cupboards, on the floor or on a shelf. Label these items clearly so that you can quickly locate them when needed.
Consider using corners in your kitchen
Corners can be awkward, but they also provide great storage for bulkier kitchen items. A corner rack can be installed to make use of this space – it may be difficult to reach items from awkward angles but installing racks in corners makes sense, according to Graeme Jones, creative director at IKEA UK.
Hang your mugs on shelves instead of keeping them in cabinets for a sleek and simple aesthetic that's ideal for small kitchens. Not only will this free up cabinet space, but it also allows you to grab one cup of coffee or tea whenever you need it.
Group similar items together, either on a tray or in jars for an organized and clutter-free aesthetic. This is particularly helpful when storing everyday products like spices and condiments that may be difficult to organize into separate containers on your counter.
Add a storage cart to your cabinets for easy access to baking ingredients, pots and pans, cooking utensils or any other items you often grab when in the kitchen. This is ideal for smaller kitchens as you can maximize cabinet space by placing similar items on one cart and transferring them around as needed.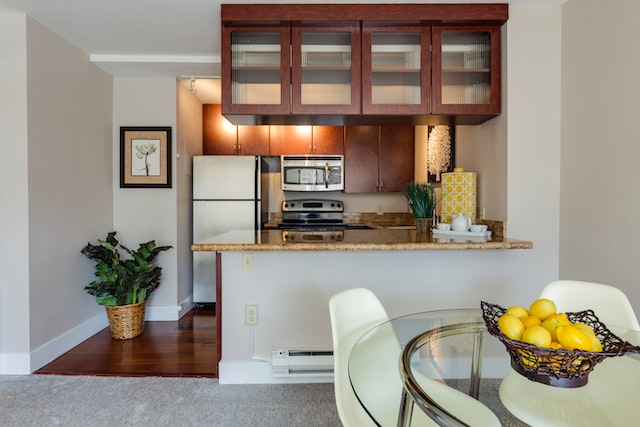 Store items you frequently use in clear baskets or bins inside cabinets to organize and separate them. You can even stack them atop each other for extra room for frequently used items.
Add extra storage in your kitchen by repurposing furniture, like this bar cart that Mallory and Savannah from Classy Clutter transformed into a narrow pantry for spices and dry goods. Not only does this provide more space for storage, but it will give you more countertop area for cooking as well.
Don't neglect the space behind your fridge or freezer! Installing a roll-out pantry or shallow drawer at the back can make it much easier to store dry goods and spices in small areas.